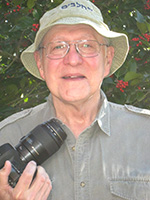 We are saddened by the news of the passing of our friend and colleague Hal Horwitz.
Hal and his wife, Helen, enjoyed a rich and active life, sharing their passion for orchids as they travelled from Florida to Newfoundland to Alaska capturing their beauty on film.
Hal was an early champion of NAOCC and supported our efforts in many meaningful ways. He was instrumental in creating opportunities for us to tell the NAOCC story and established many of the contacts that continue to support our conservation efforts on the web. Our initial Gallery featured his photography and his images form the banner on the opening page of the NAOCC site. The stunning Yellow Lady's Slipper, an image Hal was especially proud of, has become synonymous with the Go Orchids web site. Hal envisioned a field guide on native orchids and was working with us to develop the guide as a companion to Go Orchids. We intend to honor his dream and complete this mission.
Hal freely shared his knowledge, taught many, and worked with many others to capture the essence of native plants, especially orchids.
We will miss his passion for life, and extend our condolences to his family and friends. You can read about his life and family here: